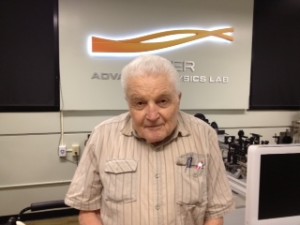 The Department of Physics at SDSU is very grateful for its friends and associates.  The physics department greatly appreciates the recent donation from CYMER to update the Advanced Optics Lab in honor of Dr. Richard (Doc) Morris.  CYMER a San Diego-based technology leader that develops light sources for use in advanced lithography to create chips for all electronic devices has provided the Physics department with a very generous $300,000 gift.  Along with their generous donation, CYMER also participates with SDSU on a social level.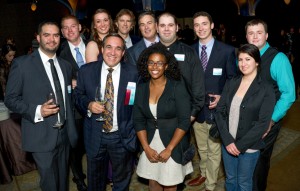 CYMER and SDSU Physics Students spend a night at the opera. The 14th Annual High-Tech Night @ the Opera event took place on Friday, April 26, 2013. That evening, hundreds of San Diego's leading technology executives, investors and innovators gathered for an elegant networking reception, immediately followed by the opera performance. CYMER is Lead Sponsor of this prestigious industry event, and was represented that evening by Cymer's Ed Brown, President and CEO, and Blake Miller, Vice President of Communications.
The Medical Physics program at SDSU appreciates the tremendous support offered by various clinical and academic institutions and the medical physicists at these sites in providing invaluable clinical/research internships in radiation therapy physics and in diagnostic imaging physics.
In addition to the medical physicists, we would like to thank the entire team (dosimetrists, radiation oncologists, technologists) who at each site, contribute significantly to the training of our students.
Genesis Healthcare Partners, 2466 First Ave Suite B, San Diego, CA 92101

Naval Medical Center San Diego (NMCSD), 34800 Bob Wilson Dr, San Diego, CA 92134
Scripps Radiation Therapy Center, 10670 John Jay Hopkins Drive, La Jolla, CA 92121
Sharp Grossmont Hospital, 5555 Grossmont Center Dr, La Mesa, CA 91942
Sharp Memorial Hospital, 7901 Frost St, San Diego, CA 92123
UCSD Department of Radiology, Radiology Imaging laboratoty, 3510 Dunhill St, San Diego, 92121
UCSD Department of Radiation Medicine and Applied Sciences, Moores Cancer Center, La Jolla 3855 Health Sciences Drive, San Diego CA 92037